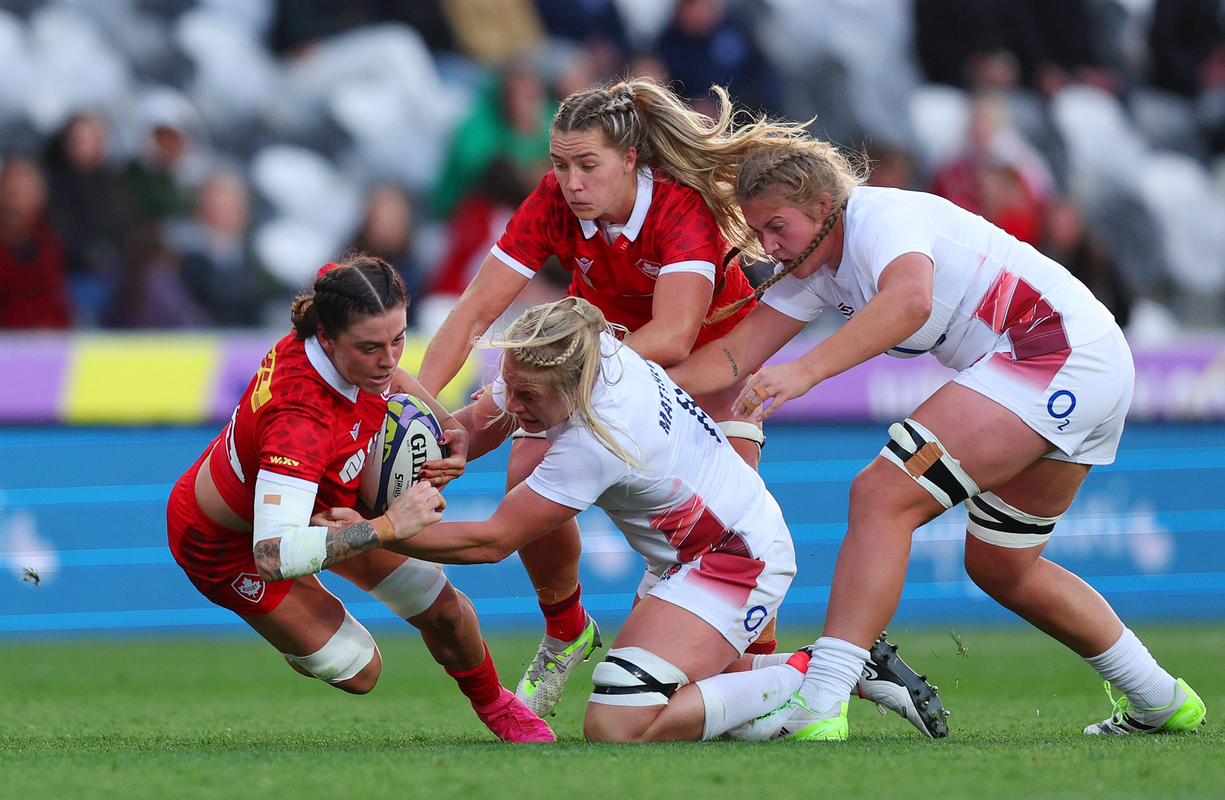 Canada falls to England in second round of WXV1
The third meeting of the year between Canada and England ends in a win for the Red Roses.
Canada's Women's Rugby Team played England for the third time this year in the second round of WXV1 at Forsyth Barr Stadium, with the Red Roses taking the win 45-12.
Despite a try for England in the opening eight minutes, Canada's defence was strong, building nicely as the first half progressed. Canada strung together 17 phases with just over 10 minutes remaining in the first half to gain significant momentum. Following a yellow card to England for a deliberate knock on, well executed set pieces led to Canada's opening try from Emily Tuttosi.
Two more tries from England maul put the score at 21-5 at half-time, but Canada was the first to strike in the second half. Shoshanah Seumanutafa dished the ball to Paige Farries, who flew down the field to score. A conversion from Sophie de Goede brought the score to 21-12.
"We kind of got our feet back underneath us [after England's first try] and we were playing well," said de Goede. "But we didn't adjust on our maul defence after the first try that they got off the maul, so it was frustrating to let one in right before the half and I think it gave them a lot of momentum."
England's scoring success with their driving maul continued in the second half, with the Red Roses scoring two more tries in this fashion, one with Canada down a player following a yellow card to Julia Schell. Canada put up a fight, but another two tries from England in the final minutes put the score at 45-12 for the Red Roses.
"We need to have a good performance for 80 minutes," said Rouet. "We didn't score when we had to score and we had some issues with some aspects of our game. We know we still have work to do in order to beat [England]."
"There were moments that were really good and for us it's about finishing those moments consistently," said de Goede. "There's a lot of belief in our group and I know we're going to get there eventually."
Canada's Women's Rugby Team plays their final WXV1 match against France on Saturday November 4 at 4:00 p.m. NZT / Friday November 3 at 8:00 p.m. PT / 11:00 p.m. ET in Auckland, New Zealand.
"England, New Zealand, France, those are the teams that we are reaching for, and it's good for us to play France after a disappointing moment against England," said Rouet. "We are going to be prepared to play against France for sure."
Canada's game versus France will be broadcast on TSN5 and TSN+. Tickets are available for purchase here.
More information on WXV, including the full schedule and results, can be found on the official website at wxvrugby.com.