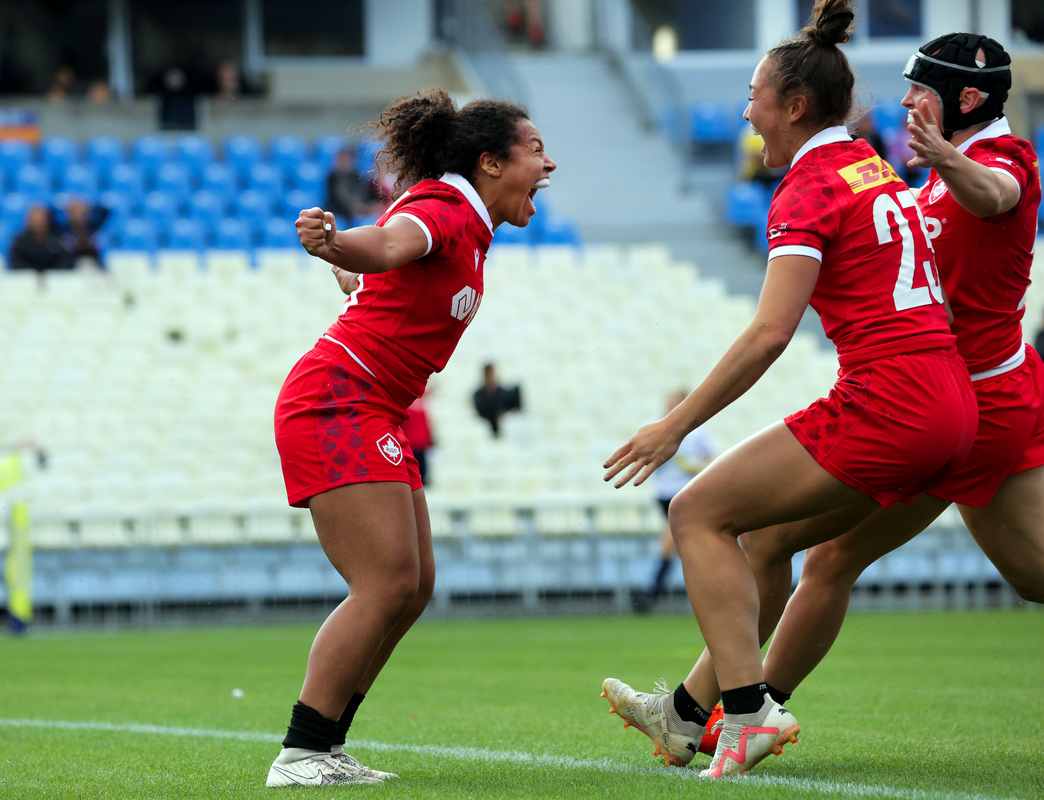 Canada closes WXV with thrilling win over France
Canada's Women's Rugby Team staged a comeback in the second half against France in their final match of WXV 1, winning 29-20.
Canada's Women's Rugby Team staged a comeback in the second half against France in their final match of WXV 1, winning 29-20.
A rematch of last fall's Rugby World Cup bronze medal final, France started strong, scoring early off a penalty kick and a converted try in the first 13 minutes to take a 10-0 lead. France put Canada's defence to work throughout the first half, but Emily Tuttosi got Canada on the board in the 35th minute, scoring off a lineout. Sophie de Goede's first successful kick of the day closed the gap to 10-7.
"We had a tough first 40 minutes, France was better than us for almost 40 minutes but we were still in the game," said Head Coach Kevin Rouet. "I was proud of the girls, we talked at half-time and the second half was a much better game for us."
With France's Nassira Konde serving a yellow card, a cohesive team effort to move the ball down the field ended in an offload from Fancy Bermudez to Krissy Scurfield for the try. Converted by de Goede, Canada increased their lead to 14-10.
Continuing their effective set pieces, Canada once again scored off a lineout in the 50th minute, this time with Courtney Holtkamp touching the ball down.
France kept the game tight, with a second French try and conversion putting them just two points behind Canada. But some fancy footwork from Bermudez, it was a show and go with Florence Symonds that sent Bermudez flying down the field, resulting in another Canadian try. De Goede's conversion brought the score to 26-17.
With nine minutes remaining, a successful French penalty kick meant that France was once again back within a converted try of regaining the lead. Moments later however, a penalty against France at their 22 gave Canada an opportunity to respond in kind, with de Goede's penalty kick closing the game and giving Canada the 29-20 win.
"We wanted to win [WXV], but I am really proud of the way that we got two out of three wins," said de Goede. "It's so incredibly important for us to have this booked into the calendar every year knowing that we are going to be playing top quality teams, getting challenged, getting tested, having to come through that, building winning habits."
Julia Omokhuale earned her first cap for Canada, entering the game in the final minutes. Bermudez earned the Mastercard Player of the Match honours. This win put Canada in second place in the standings behind England, with the final match of the tournament between England and New Zealand still to come.
More information on WXV, including full results, can be found on the official website at wxvrugby.com.