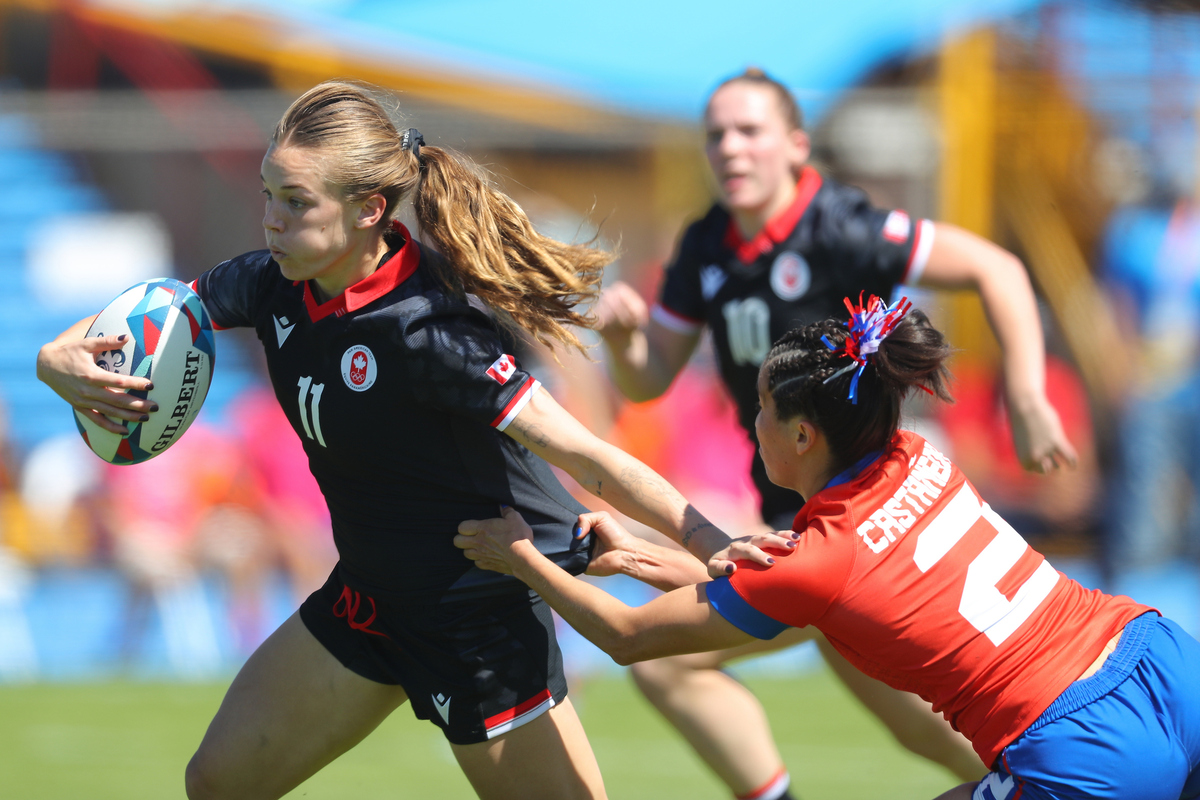 Canada's sevens teams progress to Pan American Games semi-finals
Rugby 7s Senior Women, Rugby 7s Senior Men
Canada's Women's and Men's Sevens Teams have progressed to the semi-finals following day one of the rugby sevens competition at the Santiago 2023 Pan American Games.
Canada's Women's and Men's Sevens Teams have progressed to the semi-finals following day one of the rugby sevens competition at the Santiago 2023 Pan American Games.
Opening the tournament against the host nation, Piper Logan was the first to strike for Canada's Women's Sevens Team, touching the ball down between the uprights in the first three minutes against Chile. Olivia de Couvreur added to Canada's score, with two conversions from Asia Hogan-Rochester giving Canada a 14-0 lead at half-time.
Canada's offence picked up steam in the second half with a second try from Logan (converted by Hogan-Rochester) as well as tries from Charity Williams, Chloe Daniels, and Shalaya Valenzuela. While Chile generated some scoring opportunities in the final minutes, Canada's defence held strong, and Lucie Romeo scored to seal a 41-0 win for Canada in her first international sevens appearance.
"It's such a good feeling being here in Chile with the team," said Logan. "We've been working really hard in the last six weeks so to be able to put it out on the field feels great."
Eleven Canadian tries were scored in the team's next game against Mexico, with two each from Hogan-Rochester, Logan, Williams and Romeo. Valenzuela and Breanne Nicholas also contributed to the scoreboard, with Carissa Norsten scoring her first international sevens try. Five successful conversions from Hogan-Rochester put Canada's final tally at 69-0.
"I think in our first game we kind of started off a little bit slow," said Hogan-Rochester. "We still came away with a really big win, but we really wanted to lift it up [against Mexico] and I feel like the whole team, one through 12, did a great job at that and I know we're all proud of ourselves right now."
Pool play concluded with Canada taking on Brazil. Norsten scored in the first minute of play, but back-and-forth play ensued, with Brazil taking a 7-5 lead. Logan used her speed to get Canada a second try, but Brazil once again responded with one of their own, taking a 14-12 lead at half-time. Brazil scored once more to go up 21-12, but Williams led Canada's comeback, scoring twice (one converted by Hogan-Rochester). Another Romeo try gave Canada the 29-21 win to finish at the top of Group B.
Canada's Women's Sevens Team will now meet Colombia in the semi-finals on Saturday November 4 at 7:40 am PT / 10:40 am ET.
Canada's Men's Sevens Team kicked off the Pan American Games against Brazil, with David Richard putting forth a three-try performance. With a 12-5 lead for Canada at half-time thanks to two scores from Richard and a conversion from Lockie Kratz, Brazil tied the game early in the second half. Ethan Hager broke away from Brazil's defence to give Canada back its lead, with Richard securing his hat trick in the final minute to claim the 22-12 win.
Kratz successfully converted all of Canada's six tries in their match against Mexico, two of which were his own. Matt Percillier opened scoring halfway through the first half, and despite Mexico closing the gap 7-5, Kratz ensured that Canada maintained the lead at half-time with his first try of the game. Richard scored his fourth of the tournament two minutes into the second half, following by tries from Kratz and Jake Thiel. A final try from Richard in the last minute of play gave Canada a 42-5 win.
"It was a big pick-up from our first game and I think we're pretty happy with that performance," said Kratz. "A lot of the guys pulled through and it was a great team effort."
Canada's final game of day one was a re-match of August's Rugby Americas North Sevens gold medal final. The USA opened scoring early to go up 7-0, later taking advantage of a Canadian yellow card to extend their lead to 12-0. Canada opened the second half on the attack, with Percillier scoring his second of the day to close the gap 12-5. However, a strong American counter-ruck helped the USA to another try. The final score of 19-5 put Canada in second place in Group B.
"They took advantage of the breakdown. We didn't show up to the fight at the breakdown and they got the better of us," said Head Coach Sean White. "We've got to fuel up. Go home, do the right things, eat the right food, take care of our bodies, and be ready to show up tomorrow on day two."
Canada's Men's Sevens Team will now meet Argentina in the semi-finals on Saturday November 4 at 8:55 am PT / 11:55 am ET.
WHERE TO WATCH  
CBC Sports is Canada's home for the 2023 Pan American Games. Extensive coverage can be viewed on CBC Sports' platforms, including up to four daily streaming feeds available on cbcsports.ca, CBC Gem and the CBC Sports app for iOS and Android.
Scores and the full schedule can be found here.