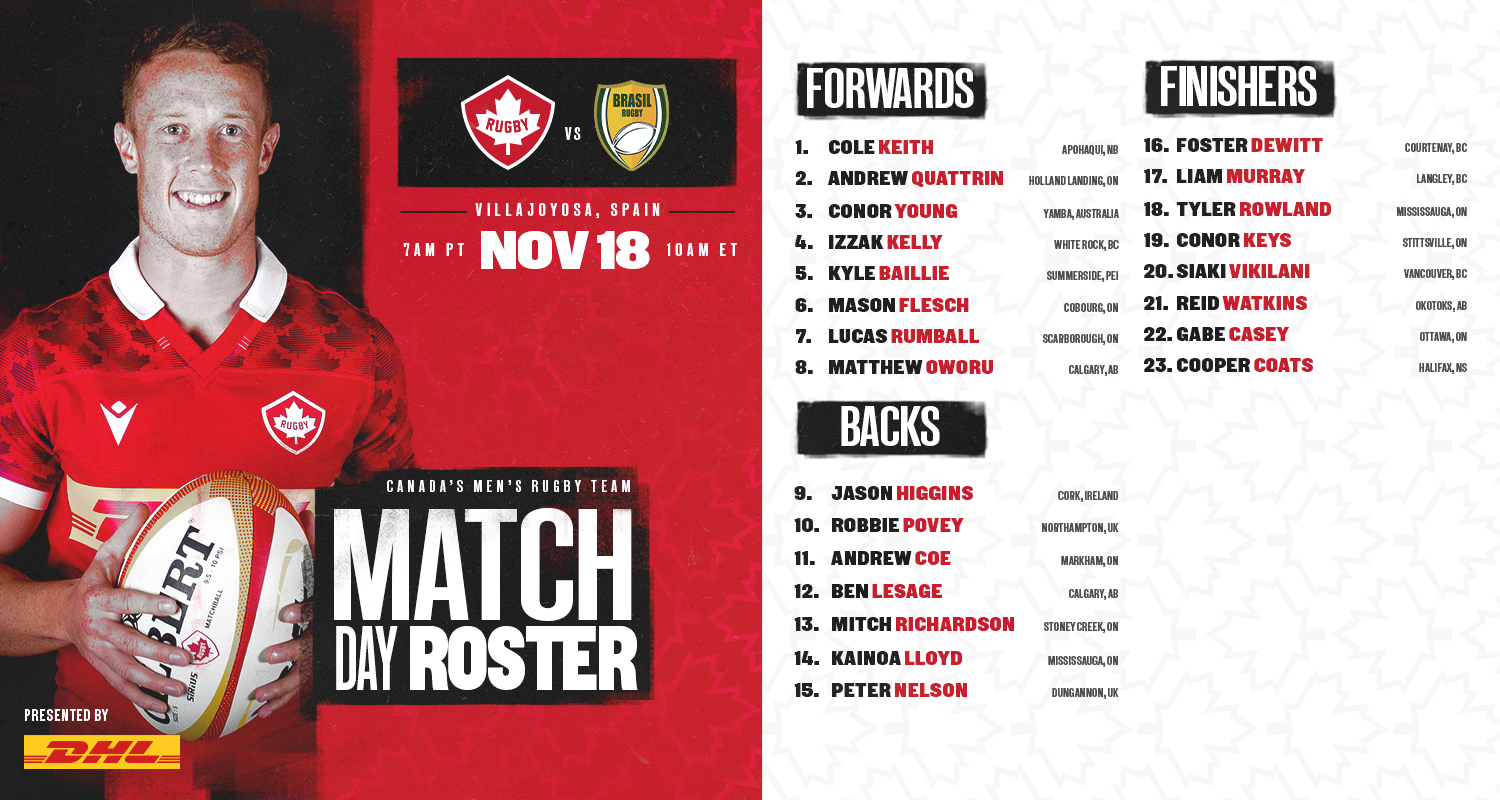 Match day roster named as Canada's Men's Rugby Team prepares for final test match of 2023
The roster for Canada's Men's Rugby Team's third place play-off match against Brazil has been named by Head Coach Kingsley Jones.
The roster for Canada's Men's Rugby Team's third place play-off match against Brazil has been named by Head Coach Kingsley Jones.  
The match will kick off at El Pantano Stadium in Villajoyosa on Saturday November 18 at 4:00 p.m. local time (7:00 a.m. PT / 10:00 a.m. ET). This will mark the first time Canada has played Brazil in a test match outside of the Americas Rugby Championship. The two nations met last October in a non-capped development match, with Canada winning 31-14.  
A number of changes have been made to Canada's roster following last Saturday's loss to Spain. Cole Keith will line up at loosehead prop following injury to Djustice Sears-Duru, with Conor Young moving into the starting tighthead prop position. Mason Flesch, Mitch Richardson and Andrew Coe also move into the starting 15, with Conor Keys and Gabe Casey moving to the bench. Kainoa Lloyd returns to action at right wing, his first selection of the tour following recovery from injury. 
Also entering the mix are Tyler Rowland, who recently re-signed with the Toronto Arrows, and Cooper Coats, a member of Canada's Men's Sevens Team. Both players earned their first caps for Canada's Men's Rugby Team against Wales in 2021 and are returning to competition with the squad for the first time this season after long-term injury recovery.  
Reid Watkins will have another opportunity to earn his first cap for Canada, with the Seattle Seawolves scrumhalf starting on the bench for a second game in Spain. 
"We were very disappointed with the performance against Spain, in particular how we started the match. The group has worked hard over the last few days, with a particular focus on mental prep before everything we do. We need to see a good start against Brazil," said Kinglsey Jones. "We are pleased with the focus, the grit and the dedication we've seen from all 32 players, and we have learned a lot about the group in the past two weeks. We know we need to see that reflected in our performance against a physical opponent and we are expecting Brazil to be equally as hungry for the win on Saturday." 
The match will be available live on TSN+, the new stand-alone digital streaming service from Canada's Sports Leader. TSN+ is home to an extensive slate of live sports coverage from around the world, including Rugby Canada matches. For more information on TSN+, including subscription options, visit TSN.ca/TSN+.  
Tickets are on sale here. 
The DHL Predictive Challenge returns for Canada's match against Brazil. Fans will have the opportunity to vote for the players who they think will lead the team in tackles, running metres, line breaks and turnovers made ahead of Saturday's match, with a chance to win prizes. Details on how to participate will be announced on Rugby Canada's social media channels. 
CANADA'S MEN'S RUGBY TEAM MATCH DAY ROSTER vs BRAZIL 
1. Cole Keith (Apohaqui, NB) – Belleisle Rovers RFC / New England Free Jacks 
2. Andrew Quattrin (Holland Landing, ON) – Aurora Barbarians / New England Free Jacks 
3. Conor Young (Yamba, Australia) – Greater Sydney Rams / New England Free Jacks 
4. Izzak Kelly (White Rock, BC) – Bayside RFC / University of British Columbia / Spotswood United RFC 
5. Kyle Baillie (Summerside, PEI) – Halifax Tars / Old Glory DC 
6. Mason Flesch (Cobourg, ON) – Pacific Pride / Toronto Arrows 
7. Lucas Rumball (Scarborough, ON) – Balmy Beach RFC / Toronto Arrows 
8. Matthew Oworu (Calgary, AB) - Pacific Pride 
9. Jason Higgins (Cork, Ireland) – San Diego Legion 
10. Robbie Povey (Northampton, UK) – Long Bukby RFC / Houston SaberCats 
11. Andrew Coe (Markham, ON) - Rugby New York 
12. Ben LeSage (Calgary, AB) – Calgary Canucks / New England Free Jacks 
13. Mitch Richardson (Stoney Creek, ON) – McMaster University / Toronto Arrows 
14. Kainoa Lloyd (Mississauga, ON) – Queen's University /James Bay AA
15. Peter Nelson (Dungannon, UK) – Dungannon RFC / Toronto Arrows 
FINISHERS 
16. Foster Dewitt (Courtenay, BC) – Westshore RFC / New England Free Jacks 
17. Liam Murray (Langley, BC) – Dallas Jackals 
18. Tyler Rowland (Mississauga, ON) – Toronto Nomads / Pacific Pride / Toronto Arrows 
19. Conor Keys (Stittsville, ON) – Barrhaven Scottish / Ottawa Ospreys / New England Free Jacks 
20. Siaki Vikilani (Vancouver, BC) – Burnaby Lake RFC / The American Raptors 
21. Reid Watkins (Okotoks, AB) – Seattle Seawolves 
22. Gabe Casey (Ottawa, ON) – University of Victoria 
23. Cooper Coats (Halifax, NS) - Halifax Tars