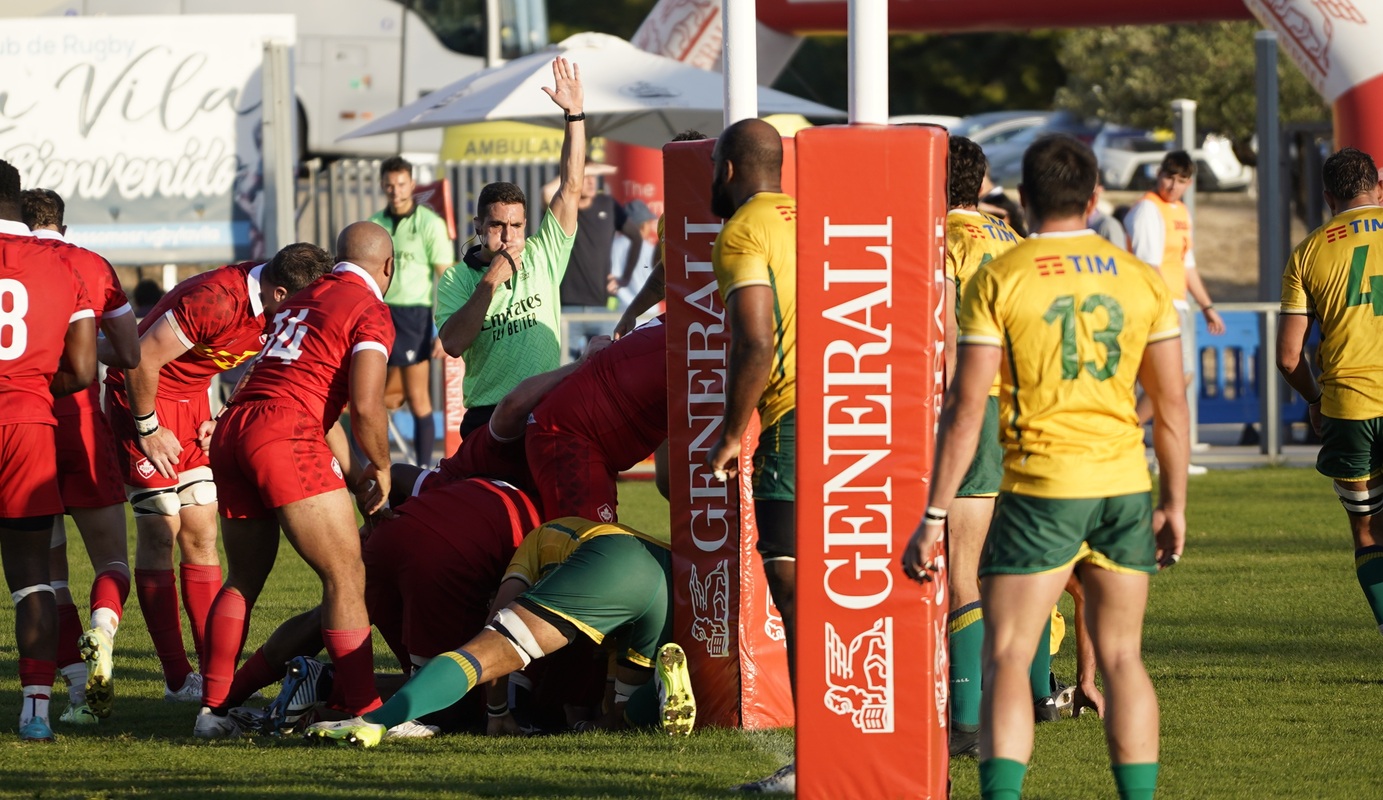 Three tries from captain Lucas Rumball help Canada to a 40-15 win over Brazil
Canada's Men's Rugby Team won the third place play-off match of La Vila International Rugby Cup on Saturday in Spain, a 40-15 victory over Brazil and the team's final test match of the year.
Canada's Men's Rugby Team won the third place play-off match of La Vila International Rugby Cup on Saturday in Spain, a 40-15 victory over Brazil and the team's final test match of the year.
A converted try followed shortly afterwards by a penalty kick gave Brazil a 10-0 lead in the first 11 minutes, but after several phases at Brazil's 5-metre line, captain Lucas Rumball scored his first of three tries. Converted by Peter Nelson to put the score at 10-7, Canada edged closer to Brazil.
Another Rumball try converted by Nelson pushed Canada into the lead in the 32nd minute, with Canada holding a 14-10 lead at half-time.
"It wasn't a perfect start, but what I was proud of is our ability to rebound. Rugby is a game of 80 minutes of back and forth and possession and power, and it shifts. You have to have the ability to ride that wave and come back at it when you get the opportunities," said Rumball. "I thought our boys did really well at responding. Still, I think a few too many errors earlier on. It's something we need to work on, but the response from the guys to bounce back and stay in it and come into half-time leading was great."
Two minutes into the second half, a well-placed kick from Robbie Povey gave Canada a lineout inside Brazil's 22, leading to Matthew Oworu scoring his first ever international 15s try. Nelson went three for three on conversions to put the team up 21-10.
Canada's next try was also converted by Nelson and scored in a similar fashion off a strategic kick from Povey for another lineout. The ball ended up in the hands of Cole Keith after several phases, who scored for the second game in a row.  
Andrew Coe gave Canada a 33-10 lead, chasing a ball that was kicked ahead into the try zone by Ben LeSage. Brazil managed to strike once more, but Canada had the last word, with Rumball scoring off the scrum, converted by Povey to put the final score at 40-15.
"Last week we were really disappointed. We took a long look in the mirror, one through 23, especially some of our senior boys who started the match. So I think it was a pleasure to take the field and get an opportunity to right the ship this week," said LeSage. "The first 10 minutes didn't go the exact way we planned it, but we turned it around. We knew if we could stay in the game we could win the physicality. We've got the fitness. We're pleased to put in an 80 minute performance and finish on a note to be proud of."
Reid Watkins earned his first cap for Canada, entering the match in the second half.
"Great evening for the players. We wanted a good start, but unfortunately we gave away a few needless penalties that put Brazil into good positions which they capitalized on with a try, but the team bounced back well," said Head Coach Kingsley Jones. "Importantly, the group got the feeling of how to build the game and build pressure on the scoreboard. In particular there was a decisive period at the start of the second half where we controlled the kicking game, played on the front foot, and really built up momentum. The forwards were outstanding in gaining penalties and scrum and tries from the resulting mauls. We earned the right to go forward which later allowed us to play some expansive rugby.
"Players talk about Canadian grit, and the most pleasing thing for me was that when we were in the lead with a couple minutes left, we kept Brazil out with a great defensive set. Learning how to win, that's one of the biggest things to take away from this. Understanding why we put ourselves in certain positions, like at the start, and how when we play the right way we're able to build momentum and take control of the game."
With this win, Canada's Men's Rugby Team moves up the World Rankings two spots to 21, having entered the tournament ranked 23rd.