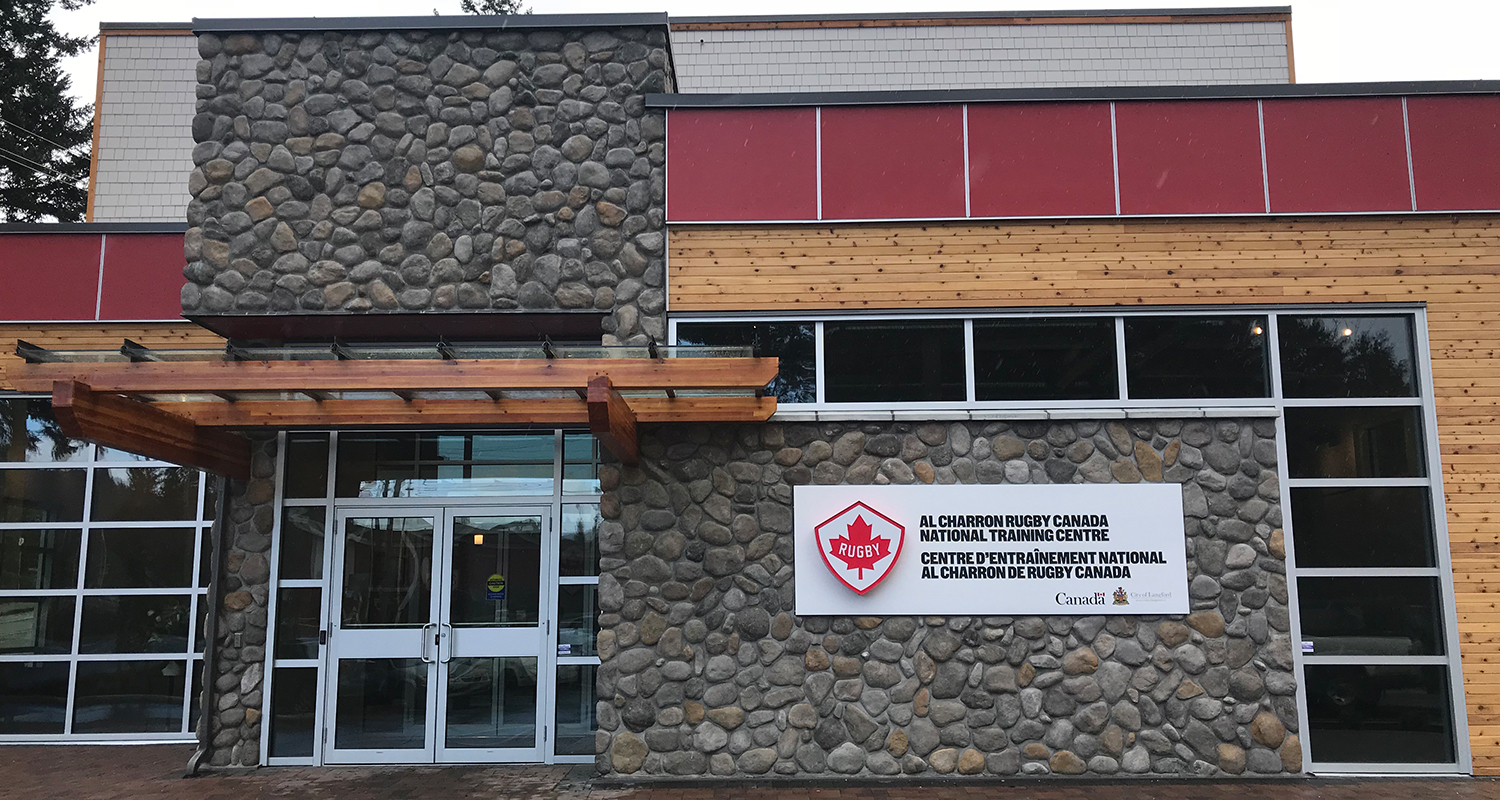 Rugby Canada and the City of Langford celebrate the official opening of the Al Charron Rugby Canada National Training Centre
Rugby Canada
Rugby 7s Senior Men, Rugby 7s Senior Women, Rugby 15s Senior Men, Rugby 15s Senior Women
World-class facility to play key role for the future of rugby in Canada while benefitting local community.
Langford, British Columbia, February 27, 2018 – Rugby Canada, in partnership with the City of Langford, is celebrating today the official opening of the Al Charron Rugby Canada National Training Centre in Langford, BC. His Worship Stewart Young, Mayor of the City of Langford and Allen Vansen, Rugby Canada Chief Executive Officer (CEO), will mark the occasion later today during a special event onsite, which will feature a ribbon cutting ceremony. The approximately 1,900-square-metre, two-storey performance training centre will serve as the home to all of Rugby Canada's national teams, as well support the training needs of other high performance amateur athletes in the region.
The Centre represents the single largest investment ever made by Rugby Canada in its pursuit to grow the sport in Canada and centralize team operations to create the necessary infrastructure to keep its teams competitive in international competitions. Funding for the capital construction project was made possible with a federal government contribution of  $2,935,250 through the Building Canada Fund – Major Infrastructure Component, $2,500,000 in repayable contributions from the City of Langford, along with over $2,600,000 in private donations raised by Rugby Canada to date.
The Al Charron Rugby Canada National Training Centre has been designed to create the best daily training environment possible, centralizing all the necessary aspects of high performance training.  The centre features a state of the art gymnasium featuring elite strength and conditioning equipment, onsite therapy and treatment rooms, hydrotherapy pools, locker rooms, meeting rooms set up for video analysis, kitchen and dining lounge, and three double occupancy bedroom studio units. The Centre is located adjacent to Westhills Stadium, further complementing the enhanced resources available to Rugby Canada's national teams. To build on the legacy of rugby in Canada, the facility will also feature the Rugby Canada Hall of Fame and Museum.
The Centre is now in active use by all of Rugby Canada's national teams as they continue preparations for upcoming international competition.
Quotes
"Infrastructure investments are all about communities and people, and we are proud to be supporting Canada's amateur athletes through this new and improved high-calibre training facility. The Al Charron Rugby Canada National Training Centre will be a major recreation hub for Vancouver Island, attracting even more visitors and tourists and providing new economic opportunities for residents. Projects like this help ensure Canadian communities remain among the best places in the world to live, work and raise a family."
The Honourable Amarajeet Sohi, Minister of Infrastructure and Communities
"Langford is proud to be the home of Rugby Canada. From the installation of a World Rugby certified turf, to the construction of this high performance training facility, to the pending expansion of Westhills Stadium, Langford is committed to working with all levels of government and the development community to ensure that all high performance athletes have the resources they need to train right here in Langford. The Al Charron Rugby Canada National Training Centre, which has only been possible by the hard work of so many people, will not only serve as the home base for Rugby Canada athletes, coaches, trainers and management for many years to come, but will also support the training needs of other high performance athletes in the region."
His Worship Stewart Young, Mayor of Langford
"It's been incredible to see this world-class facility coming to life thanks to the dedicated support of the Government of Canada, the City of Langford, the Canadian rugby community, and the many contractors and service providers who have worked tirelessly to see this project through to its completion. It's these strong partnerships that are creating an exciting future for the sport of rugby in Canada where our high-performance athletes of today and tomorrow, will have the resources and the facilities they need to achieve unprecedented success on the world stage."
Allen Vansen, Rugby Canada Chief Executive Officer
"A facility of this caliber is a game changer for those of us in the program right now, and for the generations of young players coming after us. This kind of support is hugely motivating, and we can all benefit from being together to learn from each other, and push each other to build an even stronger rugby culture that's founded in honour and excellence."
Harry Jones, Canada's Men's Sevens Team Captain
Associated links                                               
Official opening video – Al Charron Rugby Canada National Training Centre:
View live feed and time lapse video of the Al Charron Rugby Canada National Training Centre:
http://www.cityoflangford.ca/EN/main/visit/local-attractions/rugby-canada/rugbycan.html
News release (December 5, 2016): Sport icon honoured as Rugby Canada begins construction of new national training centre
https://www.canada.ca/en/office-infrastructure/news/2016/12/sport-icon-honoured-rugby-canada-begins-construction-new-national-training-centre.html?_ga=2.256668172.645352629.1519231435-680138072.1519231435
Government of Canada's $180-billion+ infrastructure plan:
http://www.budget.gc.ca/fes-eea/2016/docs/themes/infrastructure-en.html
Federal infrastructure investments in British Columbia:
http://www.infrastructure.gc.ca/map-carte/bc-eng.html
Building Canada Fund – Major Infrastructure Component:
http://www.infrastructure.gc.ca/prog/bcf-fcc-eng.html
New Building Canada Plan:
http://www.infrastructure.gc.ca/plan/nbcp-npcc-eng.html
Al Charron Rugby Canada National Training Centre FAQ'S