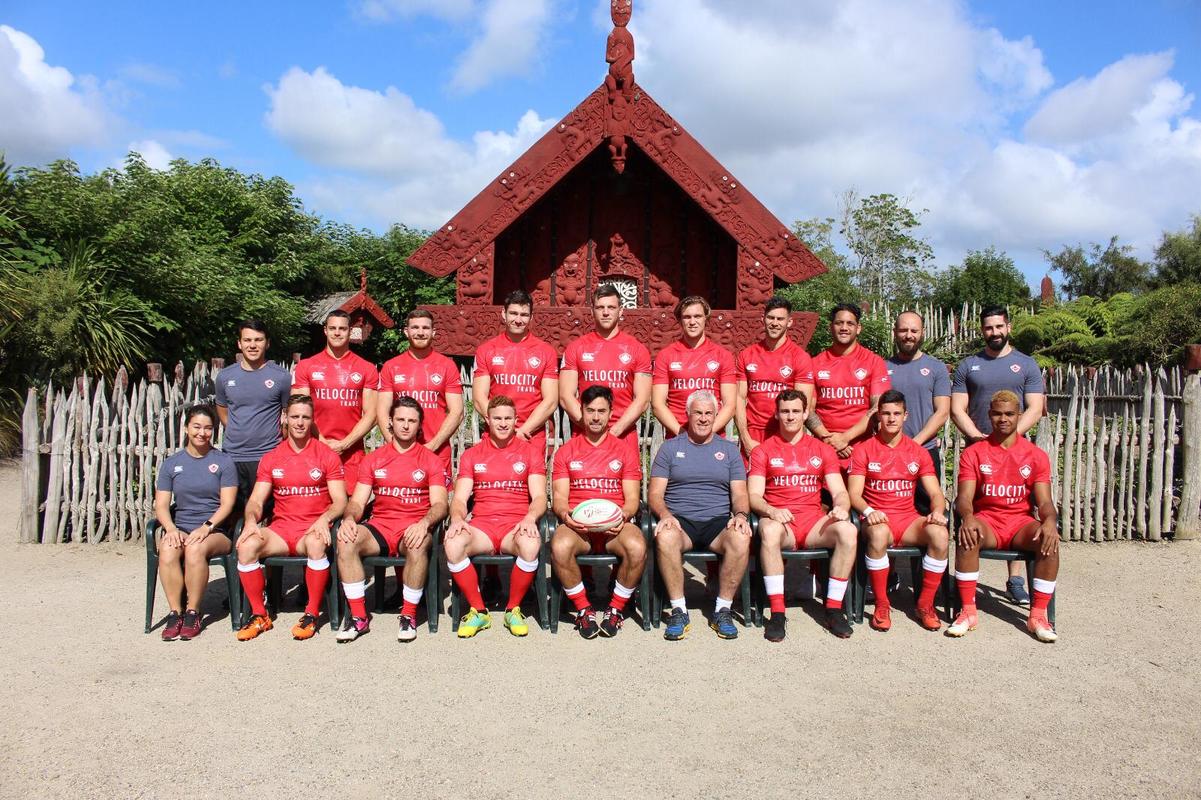 New Zealand Sevens Series Updates
Bernadette Larose
Rugby 7s Senior Men
Updates on the Canada Men's Sevens team at the HSBC World Rugby Sevens Series in Hamilton, New Zealand. 
Canada vs. Spain
Canada's opening match of the tournament ended in a draw at 12-all. 
A line break by Isaac Kaay started the offensive drive off for Canada early in the first half. It was then Mike Fuailefau, who made his return to the line up after a lengthy injury break, scoring the try and putting Canada up 5-0 at the half.
Kaay continued his offensive efforts, receiving a long-bomb pass from Captain Nathan Hirayama and raced past the defender for a try. Hirayama made the conversion. With Spain adding on two tries and a conversion of their own, the match ended 12 all. 
Canada vs. New Zealand
New Zealand were quick to the jump, striking first against the Canadians and going up 28-0 at the half. 
Canada's all time try-scorer Justin Douglas was true to his title as he blasted past his defender and opened the second half with a try. Cole Davis followed suit soon after. In only his second sevens match for the national team, Davis capitalized on the New Zealand penalty to score. 
The All Blacks added on three more tries and finished the game victorious, 49-10.
Canada vs. Japan
Canada finish off day one of the Hamilton Sevens with a solid win against Japan, 24-0. 
Captain Nathan Hirayama opened the scoring for Canada, getting the offload from Pat Kay. Then it was Connor Braid who found Justin Douglas who went in to score. Hirayama added on the conversion to put Canada up 14-0 at the half. 
Adam Zaruba muscled his way through the Japanese defense to start off the scoring in the second half. Then Douglas got his second of the match and finished off the game 24-0 for Canada. 
Canada vs. Fiji
Canada fell to Fiji in the Cup Quarterfinal 33-7. 
Fiji started the match off quick, with a try in the first 20 seconds. Connor Braid got Canada on the board off of a pick and go deep in the Fijian end. Nathan Hirayama added on the conversion. Another try by Fiji brought them up 21-7 in the first half.
Fiji added on two more scores in the second and finished the match 33-7. 
Canada vs. Samoa
Canada fell to Samoa 28-19 in the fifth place semifinal. They finish the Hamilton Sevens in 7/8th place. 
Connor Braid chased down a grubber to score, following up Samoa's opening match try. Two more Samoan scores put them up 21-5 at the half. 
In the second Luke McCloskey showed off his footwork and beat his defender to add on 5 more points for Canada. Stretching out the defense, Adam Zaruba found Phil Berna who dotted it over the line. Pay Kay got the conversions for Canada. Samoa added on another try to put the final score at 28-19.
Watch all of the New Zealand Sevens LIVE via cbcsports.ca
Canada Roster:
Phil Berna – UBC Thunderbirds (Vancouver, BC)
Connor Braid – James Bay AA (Victoria, BC)
Cole Davis – Calgary Saints (Calgary, AB)
Justin Douglas – Abbotsford RFC (Abbotsford, BC)
Mike Fuailefau – Castaway Wanderers (Victoria, BC)
Nathan Hirayama – Captain,Unattached (Richmond, BC)
Isaac Kaay – UVIC Vikes (Kamloops, BC)
Pat Kay – Castaway Wanderers (Duncan, BC)
Luke McCloskey – Castaway Wanderers (Victoria, BC)
Josiah Morra – Toronto Saracens (Toronto, ON)
Matt Mullins – James Bay AA (Belleville, ON) 
Jake Thiel – Abbotsford RFC (Abbotsford, BC)
Brock Webster – Oshawa Vikings (Oshawa, ON)
Adam Zaruba – Capilano RFC (North Vancouver, BC)
Canada's Hamilton Day one schedule:
Friday, Jan. 25 –
Canada 12-12 Spain
Canada 10-49 New Zealand 
Canada 24-0 Japan
Canada's Hamilton Day two schedule:
Saturday, Jan 26 
Cup Quarterfinal
Canada 7-33 Fiji
5th Place Semifinal
Canada 19 - 28 Samoa 
 
-30-