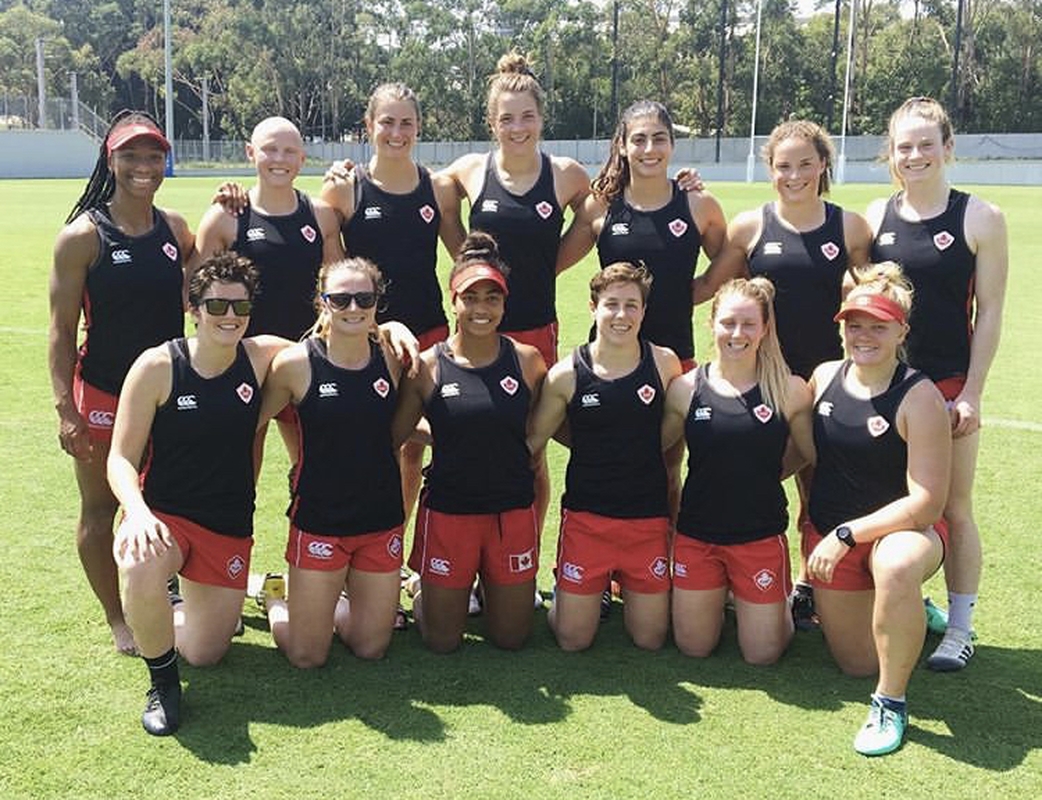 Women's Sydney Sevens Series Updates
Bernadette Larose
Rugby 7s Senior Women
Updates on the HSBC World Rugby Women's Sevens Series in Sydney, AUS on January 31-Feb 2, 2019.
Canada vs. Fiji
Canada come out on top in their first match against Fiji, winning 36-12.
Bianca Farella scored twice in the match, giving her 14 in the series so far. Julia Greenshields added on another and Ghislaine Landry gave Canada two more. 
Britt Benn had two of her own tries as well, with Em Chown scoring the last try of the match for Canada. Landry and Breanne Nicholas were good on the conversions.
Canada vs. Ireland
Canada lose in an incredibly tight game to Ireland, 15-14.
The captain Ghislaine Landry started things off for Canada, scoring a try off the Canadian scrum. Then it was Breanne Nicholas off an inside ball from Britt Benn. Ireland scored twice before the half ended. With Landry's two conversions Canada led 14-10 at the break.
Ireland fought their way back, scoring the final try of the match after much offensive pressure. A late drive from Canada was stopped short due to a penalty, leaving Ireland victorious 15-14. 
Canada vs Russia
Canada get upset in their final match of day one, losing 12-7 to Russia. 
Canada's lone try was scored by Bianca Farella after an amazing effort by Charity Williams who chased down a bumbling ball and freed Farella for the long run into the Russian end. Landry added on the conversion.
Some uncharacteristic mistakes worked against the Canadian team and they were not able to fight their way back into the match.
Canada vs. New Zealand
Canada fall to New Zealand in the cup quarterfinals, 17-7. An all out battle, Canada played with excellent defense but the pressure and support play by New Zealand was too much to handle.
Canada's captain Ghislaine Landry scored the lone try for Canada in the match after an expert play, chipping the ball forward and chasing it down, to start the offensive drive. She was then able to break the NZ line to score as well as adding on the conversion. 
Canada vs. Russia- 5th place semifinals
Canada beat Russia 12-5 in the 5th place semifinals.
Some great ball movement to start things off as Caroline Crossley finds Ghislaine Landry who hits Bianca Farella and blazes past the Russia defense to score Canada's first try. An offensive drive deep in the Russian end is capped off by Kaili Lukan who dots down for a try just before the break.
Disciplined play in the second half by Canada guided them to the victory over Russia 12-5.
Canada vs. France
Canada end Sydney in 5th place with a win against France, 19-17. 
After a French try, Ghislaine Landry kicks a beautiful ball that is scooped up by Bianca Farella who touches it down for the try. France led Canada 12-7 at the break.
Landry notched her third try of the tournament, powering through with the score. But it was Farella who pushed Canada past France, digging deep to run in her second try of the match and winning it 19-17 at the last minute. 
Watch every match LIVE on CBC Sports.
Canada's Roster for Sydney:
1. Olivia Apps, Lindsay RFC (Lindsay, ON)
2. Britt Benn, Guelph Redcoats (Napanee, ON)
3. Emma Chown, Aurora Barbarians (Barrie, ON)
4. Caroline Crossley, Castaway Wanderers (Victoria, BC)
5. Bianca Farella, Town of Mount Royal RCF (Montreal, QC)
6. Julia Greenshields, Sarnia Saints (Sarnia, ON)
7. Sara Kaljuvee, Toronto Scottish (Ajax, ON)
8. Ghislaine Landry, Toronto Scottish (Toronto, ON)
9. Kaili Lukan, Unattached (Barrie, ON)
10. Kayla Moleschi, Williams Lake Rustlers (Williams Lake, BC)
11. Breanne Nicholas, London St. Georges RFC (Blenheim, ON)
12. Keyara Wardley, Okotoks Lions (Vulcan, AB)
13. Charity Williams, Markham Irish (Toronto, ON)
Sydney Sevens Schedule:
Day 1- January 31, 2019
Canada 36 - 12 Fiji
Canada 14 - 15 Ireland
Canada 7 - 12 Russia
Day 2- February 2, 2019
Cup Quarterfinals
Canada 7 - 17 New Zealand
5th Place Semifinals
Canada 12 - 5 Russia
5th Place Playoff
Canada 19 - 17 France
Broadcast Details- https://www.cbc.ca/sports/rugby