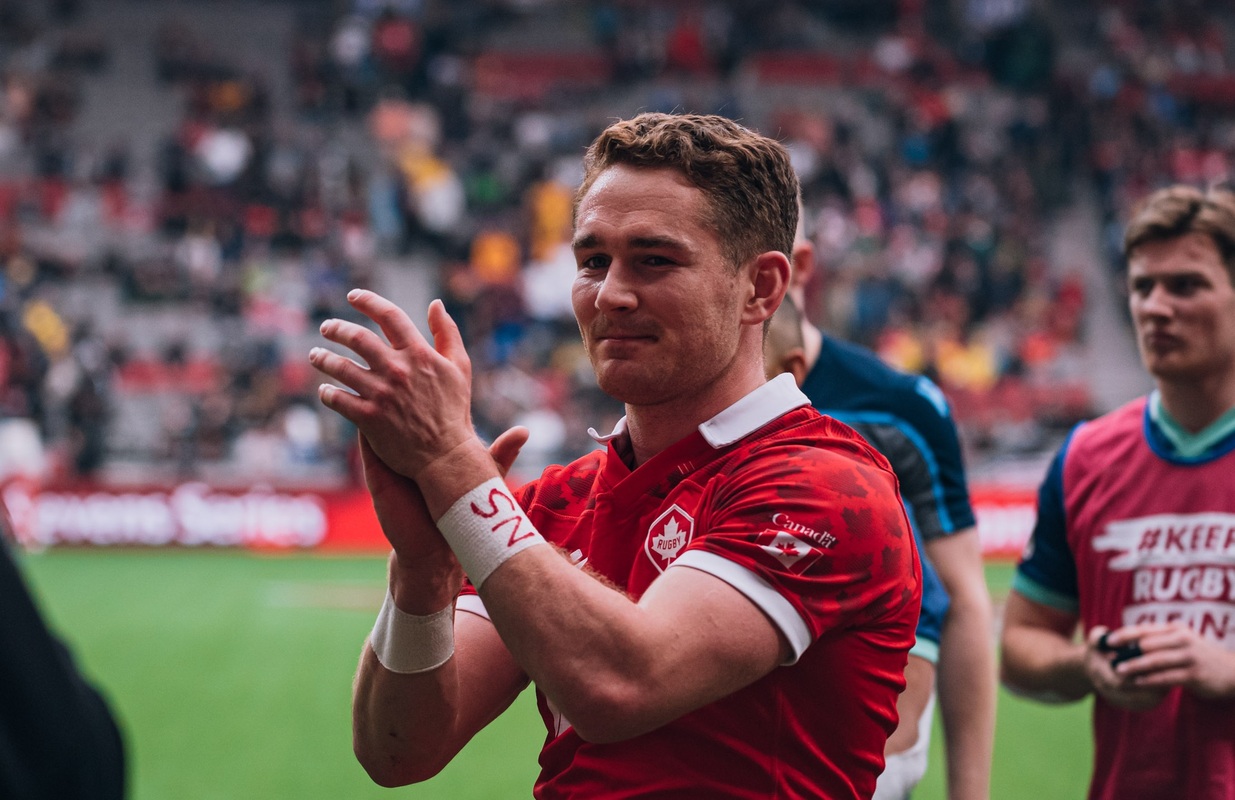 Career comes "full circle" for Nova Scotia native Cooper Coats as Canada's Men's 15s head to Halifax
Rugby 7s Senior Men, Rugby 15s Senior Men
"It's going to be quite the experience," uttered Cooper Coats thoughtfully as he cast his mind forward to next week's Men's 15s test match against Belgium.
"It's going to be quite the experience," uttered Cooper Coats thoughtfully as he cast his mind forward to next week's Men's 15s test match against Belgium. Aged 25, the Halifax native has never played a senior international 15s fixture in his hometown – but he will get the chance to do exactly that on July 2.
Named as part of Head Coach Kingsley Jones' 30-man squad for the upcoming Summer Fixtures versus the aforementioned Belgians followed by Spain on July 10 in Ottawa, the story of how Coats initially got into the sport is one of chance. Having been a keen and talented soccer player, two of his friends convinced him to go to a high school rugby practice session; the rest is history.
"I ended up trying it, fell in love with it instantly, and realized a lot of my skills from soccer could translate over to rugby," he recalled. "It all started there."

Buy your tickets now for Canada's Senior Men's 15s fixtures against Belgium in Halifax on July 2 and versus Spain in Ottawa on July 10. Go to rugby.ca to purchase today.

That session took place on the playing fields of Citadel High School, a few hundred feet from the Wanderers Grounds, where Coats and Canada's Senior 15s will take to the field a week on Saturday. Looking ahead to the fixture, he explained its significance to him personally:
"It definitely feels as if it's coming full circle. Especially playing a test match within a stone's throw of my high school, where I started the whole journey. The field that I first practiced rugby on is no longer a field - I think it's a parking lot - but it's directly across the street from where we're playing so it feels like a full circle moment."
Many athletes have their own pre-game routines, and eagle-eyed fans will have spotted Coats' tendency to write the initials of his home province on the wrist tape he wears during matches.
That habit speaks to the pride he has in representing Nova Scotia every time he steps out onto the field. "I'm incredibly proud to represent Nova Scotia," he affirmed. "It motivates me and makes everything mean a bit more to me. That's why I tend to have it on my wrist every time I play."
As the Halifax "home towner", Coats says he expects to be "quizzed quite a bit" on what he knows about the city, especially when it comes to restaurant recommendations and the like. Being based in Victoria, BC, he typically manages to get home twice a year, once in the summer and again for Christmas, meaning long stints away from his loved ones for large parts of the year.
That's why having his extended family and wider friend group in the stands to see him adorning the Canada jersey in person against Belgium is going to make the occasion all the more special.
"My direct family live in Halifax and will be coming out and I'm fortunate enough to have some extended family come as well," Coats continued. "They're going to be coming from Toronto. So, the family is going to be there in large numbers, and I've also had so much support from a lot of my friends in Halifax that I don't get to see as much anymore. Many of them are going to be making it out to the game as well, so I am very excited to see what that crowd turnout is going to be like."
Coats is one of three crossover athletes named on the 30-man 15s roster, alongside Brock Webster and Matthew Oworu, who are also regularly part of Canada's Senior Men's Sevens squad. Having experienced the collaboration between the programs firsthand, Coats believes it's beneficial to have them working together so closely.
"The most important part is having as many Canadian players playing high-level rugby as possible and training in a high-level environment," he said. "Fortunately, we now have a sevens centralized program but also the Pride Academy that develops players towards either the sevens program or getting a professional contract in the MLR or oversees.
Coats added: "I think it's great we have this collaborative environment where we're able to bring players in and out of different programs and that we have a higher number of players training in a high-performance setting."